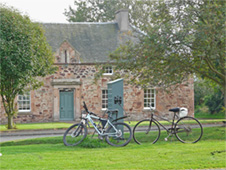 Tyninghame Village Hall Newsletter July 2018
Village Hall survey

No pub night on Friday 13th July due to a hall booking.
Hall Survey by following the link. https://www.surveymonkey.co.uk/r/Q9KPYJJ

Your responses will be helpful not only to ascertain the direction for hall uses and upgrades but to help us support any grants we apply for.

Tyninghame Community WnatsApp group.

We have set up a WhatsApp group in order for us to communicate day to day community and organisational information. For example if we are organising events it can be used to ensure we have everything ready. Or it could be that someone has extra eggs for sale, found items or can give a lift to Dunbar etc. This will be for business and community messages only and will not be a replacement for the Newsletter or for Social Media. Lucy Aykroyd has kindly agreed to form the group and will add you in by giving your mobile number, either directly to Lucy or through myself. This information will not be part of the data kept by me.

Events

The events committee is meeting this week to look at the possibility of holding a Summer Fair Event. Possible save the date Sunday 19th August.


Communication from DCC

Speed issues:
You will have seen that the speed reactive sign has been put up on the entrance to Tyninghame from East Linton as there was already a NAL socket needed to operate it. There is no NAL socket on the A198. Keith Scott the Road Safety Officer at East Lothian Council thinks it may not be appropriate to put rumble strips on the A198 and we have asked him to clarify this.
Path to Binning Wood from Tyninghame Village. The East Lothian Paths Officer is very cautious about antagonising land owners and believes its more constructive to keep them on side. Maybe further use of the path to set a precedent is possible. Daniel stated that he was happy to join a working party to clear the path past the Lime Trees next to the Old School House. This may take 2-3 hours. There then needs to be consideration of crossing fence at the Intersection of the fields,


Gardening services

Anyone looking for a gardener/ handyman. Stewart Aspen who previously worked at the walled garden is looking for one or preferably two days a week gardening work.
If you or your friends might know of any one please get in touch and I can pass your details on to him.

Crunchy Carrot

The Crunchy Carrot in Dunbar have a survey active at present re forming a shareholder business. Follow the link to find out more.
https://www.surveymonkey.co.uk/r/TDJ8GL6

Dog poo in recycling bins and drying area.

A local resident has become increasingly concerned about the placing of dog poo bags in the metal recycling bins at the back of the hall. They also noted an increase of dog poo around the drying grass area. Obviously this is a difficult one to tackle but perhaps if we all are aware it may improve.



Chairperson: David Simpson
Secretary: Barbara Schofield Treasurer: Alma Anderson
Tyninghamevillagehall@gmail.com